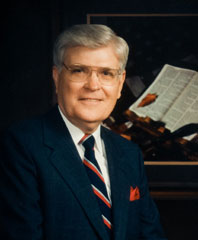 Beloved Mack Lyon passed away last night. He was 93 years old. For over 30 years he had been preaching and teaching the Gospel on television, leading countless to Christ and being a rare light of truth in a very sin-filled medium. The light he shined leaves this world, making ours a little dimmer, and though we're sad to see him go, we rejoice in the glory he now inherits.
I only met him once several years ago, while attending a Gospel Meeting, but I know he was kind and considerate, a lover of Christ and preacher of Truth. Today he's reuniting with (and perhaps, due to his TV work, meeting for the first time) the multitudes of people he helped convert. Today's he's sitting at the feet of his Master, worshiping the King. Today he's singing the new song and joining the angels in the chorus.
Today he's wearing his crown.
Prayers for his family.