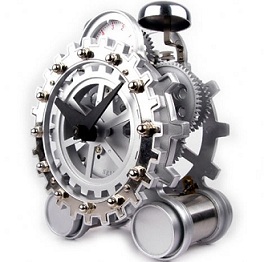 Some people have the idea that God is distant and removed. That He does not listen, does not care and does not act. Some people say that God is a clockmaker, who created the universe, wound it up like a clock and then let it go, never to be bothered with it again.
Not so.
God is not a clockmaker.
God is a Shepherd.
A Psalm of David. The LORD is my shepherd; I shall not want.
He maketh me to lie down in green pastures: he leadeth me beside the still waters.
He restoreth my soul: he leadeth me in the paths of righteousness for his name's sake.
Yea, though I walk through the valley of the shadow of death, I will fear no evil: for thou art with me; thy rod and thy staff they comfort me.
Thou preparest a table before me in the presence of mine enemies: thou anointest my head with oil; my cup runneth over.
Surely goodness and mercy shall follow me all the days of my life: and I will dwell in the house of the LORD for ever.

Psalm 23:1-6
He is guiding, caring, nurturing, rebuking and loving. He leads us to water to drink, guides us with His staff and shows us the boundaries of the sheepfold to keep us safe. He is not removed from us; in fact He is close by and ready to reach out to us when needed…
God that made the world and all things therein, seeing that he is Lord of heaven and earth, dwelleth not in temples made with hands;
Neither is worshipped with men's hands, as though he needed any thing, seeing he giveth to all life, and breath, and all things;
And hath made of one blood all nations of men for to dwell on all the face of the earth, and hath determined the times before appointed, and the bounds of their habitation;
That they should seek the Lord, if haply they might feel after him, and find him, though he be not far from every one of us:
For in him we live, and move, and have our being; as certain also of your own poets have said, For we are also his offspring.
Forasmuch then as we are the offspring of God, we ought not to think that the Godhead is like unto gold, or silver, or stone, graven by art and man's device.
And the times of this ignorance God winked at; but now commandeth all men every where to repent:
Because he hath appointed a day, in the which he will judge the world in righteousness by that man whom he hath ordained; whereof he hath given assurance unto all men, in that he hath raised him from the dead.

Acts 17:24-31
He made us, sustains us and loves us. He desires our obedience and will return one day to judge us.
He is not a clockmaker.